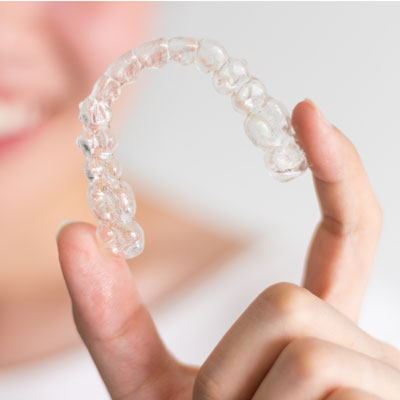 A straight and stunning smile is one of the best accessories anyone can possess. Perhaps you wanted to straighten your teeth when you were younger, but didn't get around to it. While some adults opt for metal braces, many want to align their smile discreetly without the "train track" look.
Straighten Your Smile Inconspicuously
Invisalign clear aligners are comfortable, discreet, and do a fantastic job of straightening teeth. You may wonder, however, how a plastic tray can align one's smile. People often look at the plastic tray and have a quizzical look on their face, as if to say, "Is this really going to move my teeth?" Dentist Dr Anisha wants people to know that Invisalign treatment uses active aligners that do indeed move the teeth-and quite well.
How Does It Work?
Invisalign treatment involves a series of trays that the wearer will change every 7-10 days. Each tray has .2 millimetres of movement built into it. Using a pushing technique, the aligners move the teeth into the desired position over time.
The other advantage of Invisalign treatment is that because trays are used, the patient can take several sets of trays and change them out at the recommended intervals. They don't need to come into the practice every month for tightening, which would need to be done with metal braces. Instead, the patient can come in every 3-4 months. This frequency is ideal for those who have busy lives.
Other advantages of Invisalign treatment include being able to remove the aligners to eat and drink whatever you'd like. You can drink clear liquids with the aligners (e.g. water, champagne, white wine and lemonade), but not hot drinks or dark liquids such as red wine.
How Much Does It Cost?
The cost of Invisalign treatment depends on how severe a patient's condition is. Some people may just need 6 months of treatment, because their movements are very small, but everyone's movements are different. We will let you know the cost of your treatment based on the number of trays needed and how much time it will take.
We make financing Invisalign treatment easy by encouraging patients to go on a payment plan. A 20 percent deposit is required, and the rest is directly debited, interest-free, from the patient's bank account. It can be weekly, fortnightly or monthly.
Book a Free Consultation/Scan
Wondering if Invisalign treatment is right for you? Take that first step towards getting the straighter smile you've always wanted.
At your free consultation, we can show you an instant smile simulation with our Itero Scanner! Contact our friendly team to make an appointment.
* Any surgical or invasive procedure carries risks. Before proceeding, you should seek a second opinion from an appropriately qualified health practitioner.