Dr Shu Hui Kwok, Dentist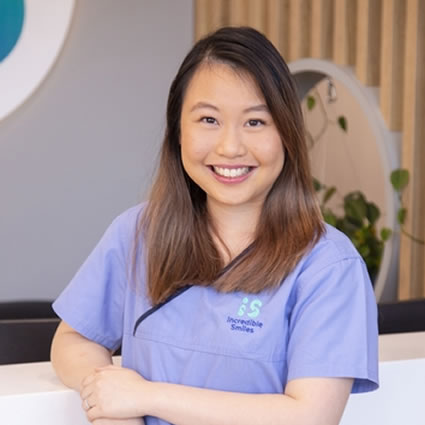 Dr Shu was inspired to become a dentist after having an incredible experience with their own dentist from a young age. Dr Shu needed braces when she was younger, and still remembers the big smile she had on her face the day she got them off. She was so thankful to the team of dental professionals who not only straightened her smile, but brought her a newfound confidence. To this day, she hopes to bring that exact confidence to her patients.
Dr Shu attended the renowned University of Adelaide, graduating in 2019 with a Bachelor of Dental Surgery. In order to continue to provide patient with the best possible care, she regularly participates in continuing education courses—recently, she's completed a few pertaining to CEREC and various oral health conditions. Dr Shu is also a member of the ADA.
As she puts it, the most fulfilling part of being a dentist is getting to meet new people and form relationships with her patients. She loves welcoming families into the practice and getting to see generational changes—i.e., marriages, new children, and other big milestones. Dr Shu truly treats her patients as if they're a member of her own family.
Outside of the Practice
When Dr Shu isn't crafting beautiful smiles in the practice, she enjoys going to the beach, watching the sunset and listening to waves. At the end of the day, you can find her back at her home enjoying a board game, watching a movie, or simply spending time with her family and husband. Originally from Malaysia, Dr Shu came to Australia to study dentistry and immediately fell in love with the area. She looks forward to exploring everything Adelaide has to offer and meeting people just like you.
Learn more about Dr Shu or book your appointment today by contacting our practice for a visit. We look forward to welcoming you!
* Any surgical or invasive procedure carries risks. Before proceeding, you should seek a second opinion from an appropriately qualified health practitioner.

Dr Shu Hui Kwok | (08) 8445 1246