Dr Ishita Gupta (General Dentist)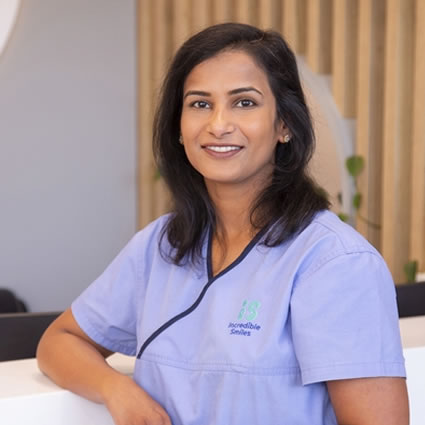 Since both of her parents are doctors, Ishita was exposed early on to the healthcare field. She was able to shadow various medical professionals. and realised that dentistry was the perfect balance of science and creativity and at the same time enabled her to provide service to the community.
Each day has its own set of unique joys and challenges, but the most fulfilling aspect is knowing that you not only helped relieve someone's pain but also gave them the confidence of a beautiful smile.
Education and Professional Development
Ishita graduated from University (both undergraduate and postgraduate) in India and then went on to do her licensing exams in Australia. She received her dental degree in 2008. To stay abreast of the latest in dentistry, she frequently undertakes professional development courses. "I believe in continuous learning as dentistry is such a dynamic field."
Optimise Your Health
Optimise your oral health by booking an appointment with Ishita today!

Dentist Woodville – (08) 8445 1246