Dental Implants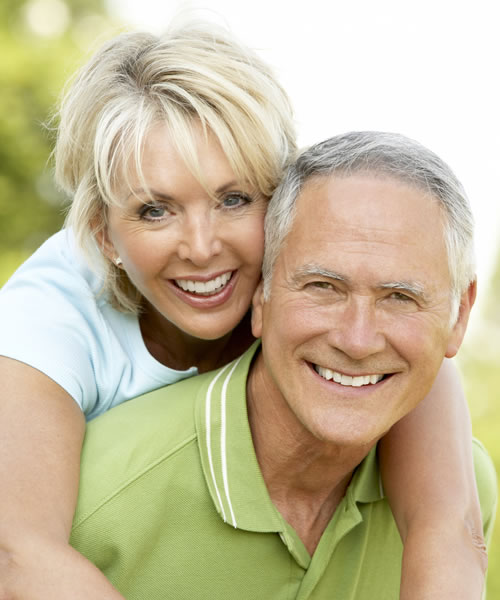 If you'd like to replace a single tooth, several teeth or all teeth, dental implants are available at Incredible Smiles Woodville to achieve your smile goals. They're the most advanced solution that functions and looks just like a natural tooth. Implants can also be used to anchor complete or partial dentures, as well as bridges.
What Are Dental Implants?
An implant is essentially a biocompatible titanium screw placed into your jawbone. As your bone integrates and fuses with the artificial root, it becomes a permanent part of your oral anatomy. At that point, we can use it to support an artificial tooth or multi-tooth prosthesis when paired with other implants.
Advantage of Modern Implant Therapy
Today's dental implants are exceptionally gentle and efficient. Our practice utilises digital mapping and 3D scanning to provide a minimally invasive and highly accurate placement on the date of your surgery.
As such, the recovery time is minimised and you'll be back to your typical routine within a couple of days. Since everything is virtually planned ahead of time, the actual placement of your implants is quite straightforward and predictable.
Thanks to the success of modern implant designs, we can replace anywhere from a single missing tooth to a full arch, using a permanently affixed streamlined denture design.
Single tooth replacement with dental implants involves a crown affixed to the implant.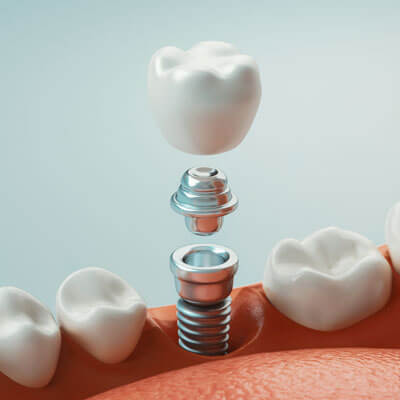 The advantages of choosing dental implants for tooth replacement include:
Comfortable
Convenient
Improved oral health and self-esteem
Enhanced facial appearance
Easier speech
Long-lasting
---
Improve Your Smile and Quality of Life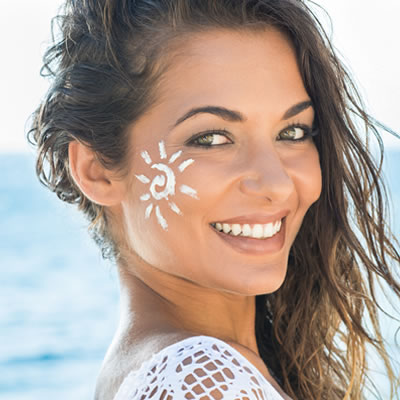 Investing in something like dental implants can significantly impact your quality of life. With a removable 'plate' or dentures, you risk slurring when you speak or slipping during meals.
Instead, dental implants provide you with the confidence of having a smile restoration plan that essentially mimics the function of natural teeth. Eating and speaking are comfortable again, providing you with a dramatic improvement over removable denture options. Your investment can last for years, making them superior to other types of tooth replacement options.
The Procedure for Dental Implants
We suggest you come in for a consultation that will allow you to find out if you're a candidate for dental implants. If so, the process involves the placement of the implant to the jawbone while you're kept comfortable under IV sedation or local anaesthetic. Your oral surgeon or implantologist handles this part of the process. Once a healing period has passed, we can place the restoration or device on the implant.
FAQ
How long do dental implants last?
As long as your implants are well looked after and you have good oral hygiene and gum health, your implants can last well over a decade to the rest of your life.
Who is an ideal candidate for dental implants?
Anyone with missing teeth or who wears a denture and wants fixed teeth is a candidate for dental implants. Implants allow you to eat and speak normally.
Are there contraindications for dental implant therapy?
If you are medically compromised, have uncontrolled diabetes, severe gum disease or are a heavy smoker, dental implant treatment is not recommended.
How is your approach to implant treatment different?
Our practice is equipped with digital 3D CT technology to virtually plan your implant placement ahead of surgery. This resource allows us to create a digital guide for extremely accurate and well-planned implant installation, for a shorter and gentler experience.
Will I be in pain after my procedure?
Some discomfort for the first 2-3 days is normal. Fortunately, it can be reduced with digital mapping. There is typically no need for antibiotics or painkillers. Most people are fine to go back to work after a weekend of rest. If you're getting multiple implants, you may need 2-3 days of recovery. Sedation is available if you feel extremely nervous.
How much do dental implants cost?
The price of dental implants can vary, depending on how many need to be installed for the number of teeth missing. Typically a single-tooth implant is around $4000-5000.
This fee is broken up into phases so that it's not due all at once. If you have health insurance that pays for insurance, you may have benefits of up to $1000 per year and we can plan the installation on either side of the calendar year (with your healing period in-between) to minimise out-of-pocket costs.
How long does it take to get dental implants?
Dental implants need 4-6 months to heal and integrate with your jawbone before supporting a permanent artificial tooth. However, if you have a tooth at the front of your mouth that is missing, we can place a temporary tooth over that area until your implant is fully integrated.
Experience the Difference
Discover the confidence and comfort that dental implants have to offer. Contact us today to request a consultation and find out if you qualify for this revolutionary treatment.
CONTACT US
* Any surgical or invasive procedure carries risks. Before proceeding, you should seek a second opinion from an appropriately qualified health practitioner.

Dental Implants Woodville Park, Woodville, Woodville South, Woodville North, St Clair SA | (08) 8445 1246